Wessex Capacity Enhancement - Waterloo Station & Outlying Areas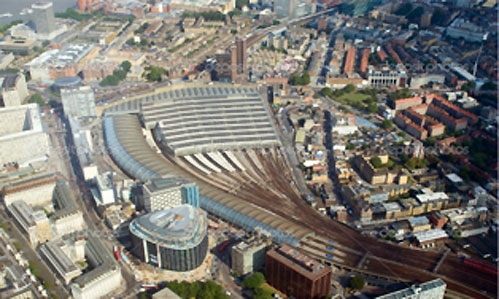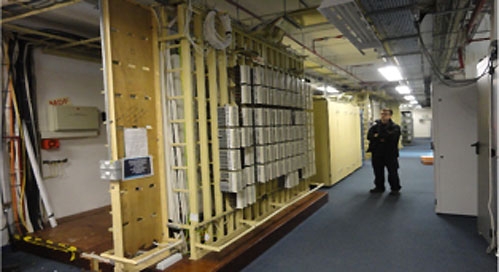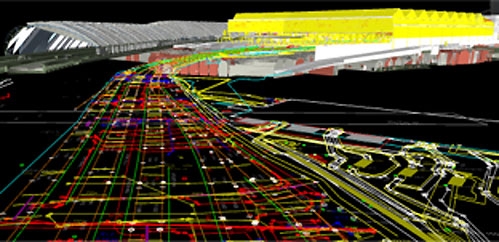 During Network Rail's CP5, the Waterloo Capacity Enhancement Programme will bring the closed Grimshaw-designed HS1 International Terminal back into use for domestic train services.

This major scheme forms part of the £300m Wessex Capacity Programme, which will increase train and passenger capacity at London's busiest station and across the Wessex Route. In also includes a line-wide capacity enhancement and provision of a 10 car service into Waterloo, requiring extensions to platforms 1-4 and extensive alterations to the track, signalling and buildings on the Wessex Route and at Vauxhall, Clapham Junction, Richmond, Wimbledon and Surbiton Stations. The addition of congestion relief works at Waterloo make this an extremely complex project, where simply defining the scope of each package is a challenge!
---
Fourway partnered with Amey to deliver a comprehensive picture of existing asset information to support the Capacity Enhancement Programme. Rather than the two companies retaining corporate boundaries a single collaboration was proposed. At bid stage responsibilities were allocated as follows: Amey delivering the signalling correlation, possession planning, structural assessments and drainage surveys; and Fourway the record acquisition, cable surveys, buried services surveys, BIM and enabling works strategy. However, the collaboration allowed the flexibility to assign team members from either company on a 'best person for the role' basis. This greatly assisted resourcing and the quality of the team.

The team were located in Waterloo Station General Offices. This ensured close working relationships could develop with the Network Rail Wessex delivery team. It also ensured access to NR IT over which hosted the BIM model.

BIM
A vital ingredient was agreeing a BIM Execution Plan and defining survey extents, site limits, LoD (levels of detail), software and CAD standards. In producing the BIM strategy, we looked at integrating 2D and 3D models which had been produced by a variety of different previous projects. The result was a federated model which allowed site data to be built in a secure, collaborative environment.

An important consideration was the requirements of future downstream designers working for the main Capacity Enhancement Programme. It was important to consider their efficiency, priorities and the way they would want to design. This required us to look at the underlying engineering in detail and, to a degree, define future design parameters. It also helped us target and prioritise surveying. We also developed manual and electronic processes to validate data added to the model to maintain the principle of 'single version of the truth'. This was key to eliminating repeat surveying in subsequent phases of the work.

Surveying
GPS data capture was used to produce the 3D model directly from the site survey using hand-held GPS measuring equipment and touch screen tablets. Typical asset information acquired included GPS co-ordinates, cable/asset label data and site photography. Through the text entry facility the survey team could link additional data relating to asset condition and record correlation.

Of the many benefits of 3D data capture, the key one was making rapid progress with only limited site access in this very busy area, sometimes only 90 minutes per night! In addition, directly importing the survey data into the 3D model, then into the federated BIM survey model and then pass this to the designer's BIM construction model, all without conversion, increased efficiency and reduced errors. Finally, cross checking between the different survey models, eg P-Way and E&P, meant that location errors could be quickly spotted before at an early stage.

A key objective was to capture the big risk items, which are often third party services running through the site. Our telecomms and E&P engineers reviewed records, talked to maintainers and other stakeholders in order to deduce the existence of critical services and then to verify this on site. This was by far the biggest benefit to the project as it identified the key stakeholders and their specialist design teams that had to be engaged immediately to meet the programme dates. We tried to ensure our approach was holistic and provided the maximum benefit to the overall Programme.

Enabling work strategy
We exposed long lead times of utility diversions and complex migration of existing services by developing enabling works strategy well in advance of the permanent final design thus helping with cost and programme certainty. The biggest delays occur when the enabling works design gets left too near to the main construction programme. We aimed to find a lot of the site problems at an early stage and provide an imperative to get the missing third party stakeholders on board and working well before it became a hold-up to the main works.

At Waterloo, our surveys and feasibility showed that the enabling works were much more complex than moving a small section of troughing out of the way of a re-aligned track. It highlighted the need to extend the scope of cable diversions to include other areas found to contain third party services as well as other main work packages, previously thought to be independent. As a result we conceptualised a major new cable route to serve both the Waterloo International and Waterloo Station areas. Intelligent output like this from BIM-enabled surveys complement and enhance the permanent design process allowing it proceed in parallel but be informed, minimising delays and abortive effort as so often can be the case.