September 2014
Major milestone achieved at London Bridge Station Redevelopment
Tue 9th September, 2014
---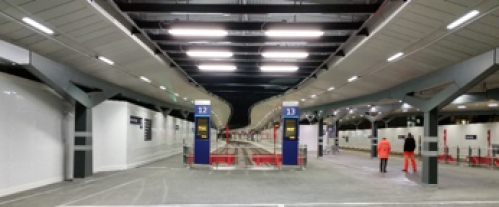 Fourway has helped deliver a major milestone at London Bridge Station project with the opening of two new platforms and a new Excess Fares office.

Platforms 12 and 13 were opened at London Bridge on 1 September 2014 following a 9 day part-closure of the station. More than 1,200 engineers worked around the clock to complete the platforms, lay new track and install a state-of-the-art signalling system, while train operators supported the works by running amended timetables and alternative services. The Rail Minister visited the station last week to see how work was progressing.

London Bridge station is currently being rebuilt as part of the Thameslink Programme, providing more space and new facilities for passengers.

Opening platform 12 and 13 is one of a whole series of milestones required to deliver this £450 million project. Fourway provided the telecommunications design and construction working in collaboration with clients NG Bailey and Costain. The principal systems being delivered were customer information, station CCTV, help points, station radio and public address.