Farringdon Station Redevelopment - Enabling works strategy and delivery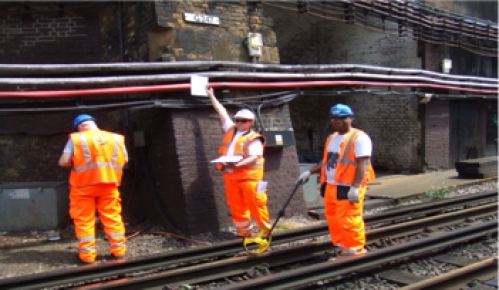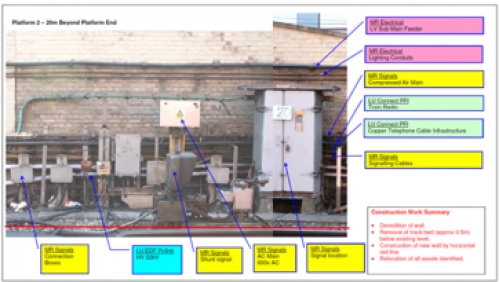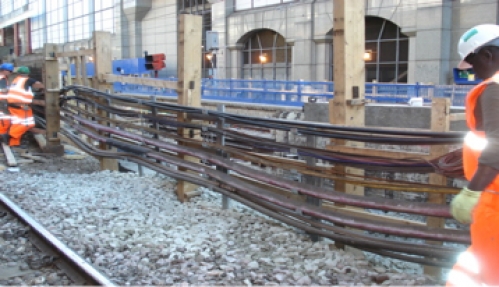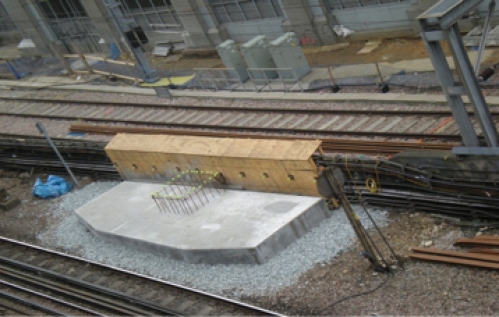 An integral part of the Thameslink Programme, a £250m project to remodel Farringdon Station enabling it to accept 12 car trains. The major elements of construction included replacement of an existing interchange bridge; closure of the national rail Moorgate branch; demolition of Turmill Street station buildings, Cowcross Street bridge, LU P-way buildings and Cardinal Tower; construction of new Turnmill Street ticket hall and basement room complex; construction of new NR integrated ticket hall; construction of national rail platform extensions; construction of a new 11kV transformer room including feeder cables from Moorgate substation; construction of replacement Cowcross Street Bridge; refurbishment of the LU station building including concourse extension, modernised secure suite and new combined control room.
Key project requirements:
• Combined NR & LU project governance
• Station to remain operational throughout the 4 year construction programme
• Grade II Listed
• Project completion date determined by Thameslink key output 01 (December 2011) introduction of 12 car trains.
---
Fourway supported VVB-Crown House JV, by providing the enabling works strategy and delivery throughout the project life cycle including ECI period, target cost development, programme development, GRIP3 to 5 design phases, through to delivery.

Surveys
Fourway identified the existing system infrastructure through all areas of the site. In terms of LU this included radio, copper/fibre transmission, ticketing systems, station systems (comms, IT, fire, LV, lighting etc), safety critical comms (OPO, TT, SPTs etc), power distribution, PADs. The signalling system was medium complexity as the site included an IMR, sidings and a crossover. The NR owned infrastructure included DOO CCTV, OLE, 3rd rail, Ops telecoms, signalling, track interfaces, systems owned by the TOC such as PA, CCTV and IT etc. Asset and cable recognition was achieved through a variety of methods including assessment of existing records supported by targeted surveys by Fourway specialists in key areas. We championed efficiency through 'smart surveying' which employed a targeted, progressive approach rather than blanket 'tag and trace' methods.

The survey data recovered was added to photographs and CAD layouts of the GRIP 3 building design. This enabled areas where construction activity clashed with existing system infrastructure to be easily identified and visually represented. Analysis was performed at the individual and aggregate levels. Individual impacted areas were subject to a detailed analysis to establish the assets affected. Fourway used in-house specialists to identify the system, function, operational criticality and 3rd party asset owner.

The resulting visualizations ensured a holistic picture of impacts affecting each asset group could be understood. These aggregate studies considered all geographic areas of the site and all stages of the construction works. This was critical to understanding the scope and programme of works stream for each 3rd party asset owner. The highest priority was to avoid, if at all possible, relocating existing system infrastructure.

Project Management
Fourway facilitated workshops with the construction team, designers and 3rd party asset owners to form a comprehensive understanding of programme and cost implications. We developed an enabling works strategy which optimized construction sequence but reduced impact on system infrastructure. We produced engineering proposals fully supported with cost, programme, benefit and risk arguments. These were presented to Network Rail on behalf of Costain Laing O'Rourke.
Fourway produced supporting cost data for the development of Costain Laing O'Rourke's Target Cost including enabling works, 3rd party costs, temporary works and presented to JV board for acceptance.
A key part of our role was giving confidence the strategy was robust. It was essential all phases of construction and all areas of the site were factored so that the asset relocation sequence was credible. This required a high degree of communication between the project and multiple stakeholders who we ensured participated in all aspects of the process