Kings Cross Station Regeneration Programme - Telecommunications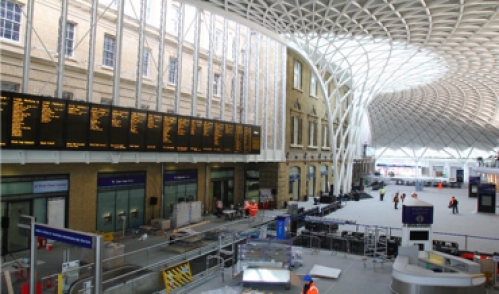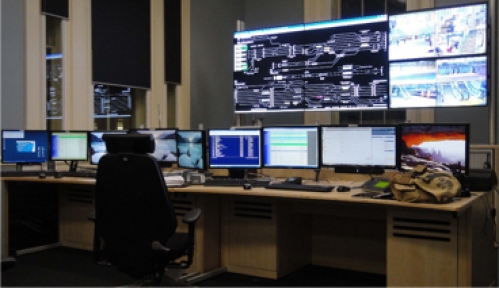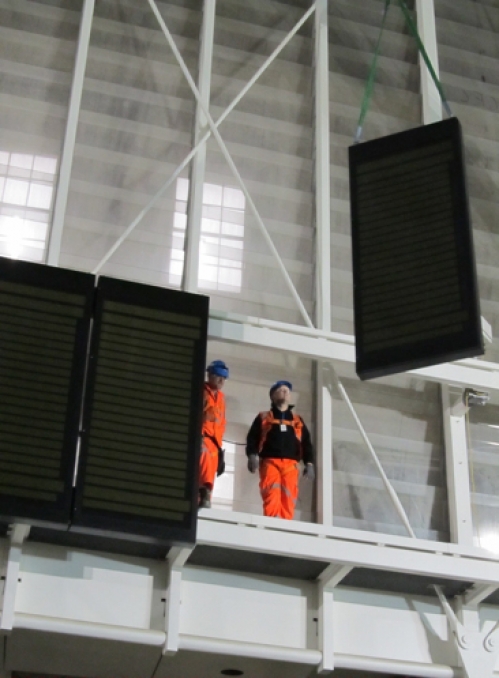 King's Cross, for decades one of the least appealing parts of central London, was the subject of a £500m regeneration programme taking over 4 years.

Designed by Lewis Cubitt in 1852, the station was restored with original features retained wherever possible to safeguard its architectural integrity.

The new western concourse roof was conceptualised by architect John McAslan & Partners and designed by consultant Arup.

In 2012, the restoration of the twin train sheds was completed, letting light flood back in to the station.

The project also included the refurbishment of the main accommodation areas of the Eastern and Western Range buildings, which were Grade 1 listed.

A further facet of the project was readiness for the 2012 Olympics.
---
Fourway designed and delivered all features of the programme's telecommunications through a series of different contracts. The principle systems included site-wide telephony, IT, customer information systems, CCTV, public address, radio and customer help points. We delivered over 10 new communications equipment and node rooms throughout the station. The project had numerous construction phases over a four year period each requiring migration and bringing into use of operational systems to ensure King Cross's 47 million annual passengers suffered the least disruption possible. These are summarised below:
- Opening in platform 0 into operational service.
- Opening the refurbished Eastern Range building
- Construction of new equipment rooms for all central systems.
- Creating a temporary control room
- Relocation of western range staff to temporary staff accommodation.
- Refurbishment of the existing train sheds and platforms 1 - 11.
- Opening the new western concourse
- Opening the refurbished Western Range including new control room

Fourway master minded the entire systems migration for the Programme, providing a 'guiding mind' to ensure all strands of this complex project were brought together. This was communicated to the wider project team through a series of power point presentations.

A critical factor observed was the Grade 1 status of the building. Every aspect of our installation had to meet English Heritage's stringent criteria.

A further complexity was the need to maintain the flow of passengers and supplies so that the station could stay in operation. King's Cross remained open for the full construction programme.

Fourway also dealt with a complex range of stakeholders including the TOC's IT and communication system requirements, NR IM and NR system maintainers. Our role was to ensure their needs were met and the Programme's excellent reputation was maintained.

During the Programme all our design and project staff were located in Network Rail offices at Cubitt House. This was vital to ensure efficient communication and a collaborative ethos.

Control Room
We designed all the control systems for both temporary and permanent control room. The temporary control room was located on the ground floor of the bomb gap. We were responsible for human factors, MEP and SISS design. For the permanent control room we worked with NR to deliver the SISS and SMS design. We implemented two control room migrations. In both cases Fourway adopted a testing regime which allowed each system to be tested in its own right before carrying out the main changeover. This reduced risk considerably.

Station Management System
We designed the SMS from a brief provided by NR. We completed the user requirements definition process and took this all the way through to detailed configuration design, wiring schedules, software design and testing. We provided 3 workstations to control in excess of 500 cameras, the site wide customer information, access control and respond to help point calls. We currently hold a 5 year maintenance contract for the SMS and are working with NR to implement similar systems elsewhere on the network.

Prebuild
With over 2000 field assets including cameras, CIS screens and loudspeakers Fourway was able to use its pre-build facility in Cheshunt, Hertfordshire to the full. This lead to huge reductions in site time and a much better quality end product.

Our total project value was in excess of £10 million.